End Special Anti Rubbery Squad (EndSARS) Protest and It Consequences on Economic Activities of Nigeria Maritime Sector
Keywords:
Aggression, endsars, frustration, protest and SARS
Abstract
This research examined the incidents of End Special Anti Rubbery Squad (EndSARS) protest and it consequences on economic activities of Nigeria maritime sector, with the interest to provide information on the courses and it consequences on economic Activities of Nigeria maritime sector. Through application of frustration-aggression theory while carrying out the findings. From phenomenological point of view, the study adopted descriptive method in carrying out the findings. Therefore, a random sampling through distribution of quatitative questionnaires to 130 respondents was done. In addition of uses of secondary data such as relevant books, national and international journals, radio, television, news papers, government publications, online sources, and personal experience was applied. After data analysis was done, the findings attested that end special anti rubbery squad protest in Nigeria was ended in violence. Although, the study also discovered that at the beginning, it was peaceful in nature, but ended up with violence and bloody.
References
Adekoya, C. O.(2021). Information and Misinformation During The EndSARS Protest in Nigeria: An Assessment of the Role of Social Media. Convenient Journal of Library & Information Science (CJLIS).Vol. 4, No 1, June, 2021. https://scholar.google.com.
Amnesty International, (2020). "SARS Operatives Since The National Assembly Passed The Anti-Torture Act of 2017" Amnesty International: June. Retrieved Nov. 2020. www.amnesty.org.
Berkowitz L. (1962). Aggression: A social psychological analysis. New York: McGraw-Hil; 1962. [Google Scholar.
Bernburg, J. (2015). Overthrowing the Government: A Case Study in Protest. 2015. In Gambling Debt: Iceland's Rise and Fall in the Global Economy, University of Colorado Press. https://www.researchgate.net/publication/283727599.
Bleaney, M. and Nishiyama, A. (2002). Explaining Growth: A Contest Between Models. Journal of Economic Growth. Vol. 7(1), 43-56.
Brigid, O. J. and Chinonso, M. K. (2021). Effect of the EndSARS Protest On The Nigeria Economy. Global, Journal of Arts Humanities and Social Sciences. Vol. 9(3), 1-15.
Bethany, J., Amber, E.G. and Crystal, R. (2022). Aggressive Behavior: Understanding Aggression and How To Treat It. https://www.healthline.com.updated on March 3, 2022.
Bushman, B. J. and Huesmann, L. R.(2010). Aggression In S. T. Fiske, D. T. Gilbert, & G. Lindsey (Eds), Handbook of Social Psychology. 5th Ed,, Vol. 2, pp. 863. Hoboken, NJ: John Wiley & Sons.
CNN, (2020). Nigeria's Youth Finds It's Voice With The EndSARS Protest Movement. https://edition.cnn.com/2020/10/25/Africa/nigeria-end-sars-protests-analysis-intl/index.html.
Dewall, C. N., Aderson C. A. and Bushman, B. J. (2012). Aggression In H. Tennen, J. Suls, & I. B. Weiner (EDS), Handbook of Psychology (2nd Ed.), Vol. 5, Pp 449-466. Hoboken, NJ: John Willey & Sons.
Eluwa, G., Osasuyi, D., E., Eseoghene, A., Kwasi, T., Oladapo, S., Sylvia, A. (1996). African and The Wider World Since 1800 A. D. Onisha: Africa-first Publication. Ltd. https//spot.com.ng/2015 merits and Demerits of parliamentary System HTML. 26/6/2017.https://www.britarnica.com/topic/parliamentary, Democracy 2016, 27/6/2017.
Fagbo, F. (2020). "The Effect of The EndSARS Protest On Business and Nigerian Economy. Entrepreneurs Publishers, Retrieved 24th November, 2020. www.entrepreneurs.ng.
Faleti, S. A. (2015). Theories of Social Conflict In Shadrack Gaya Best (Ed.) Limited.Pp 35-60. West.
Ifeoluwa, A. (2020). How Hoodlums Took Advantage of EndSAaRS Wreaked Havock in Lagos. Online source. www.premiumtimesng.com. sear Humanisticched 07/01/2023.
John, D. L., Miller, D. N., Mowier, O. H. and Robert, S. (1939). Frustration-Aggression Hypothesis Examination and Reformation, Leonard Ber Kowitz. University of Wisconsin-Madision. Copyright 1989 By The America Psychological Association, One; 0033-2909/89/500.75.
Johnnie, J. A. and Craig, A. A. (2017). Aggression and Violence: Definitions, Distinctions. The Wiley Handbook of Violence and Aggression, Peter Sturmey (Editor in-chief). 2017, John Wiley & Sons Ltd. Published 2017 By John Wiley and Sons Ltd. DOI: 10.1002/9781119057574. whbva 001.
Kabiru, D. and Mustapha, N. M. (2020). Social Media and Social-distancing Protest in Nigeria: Activism or "Slacktivism". Zaria Journal of Communication. 5(1), 77-88, 2020.
Kern, L. H., Charles, C. and David, D. (2015). A Spatial Analysis of The Impact of West German Television on Protest Mobilization Auring The East German Revolution. Journal of Peace Research, Vol. 52, No 3, Special Issue on Communication, Technology, and Political Conflict (May, 2015), Pp 269-284.
Lagos Chamber of Commerce and Industry, (2020). The Economic Implication of EndSARS Protest. Second Quarter GDP Report. LCCI Press Release. Retrieved: 20Th November, 2020. www.lagoschamber.com.
Maria, T. G. and Marco, G. (2016). Protest Participation and Economic Crisis: The Conditioning Role of Political Opportunities. European Journal of Political Research. 55: 663-680, 2016, DOI: 10.1111/1475-6765.12153.
Midenda, S. D. (2017). How I Founded SARS In The Police-RTD CP Midenda-Vanguard News. https://www.vanguardngr.com.
Miller, N. E. (1941). The Frustration-aggression-Aggression Hypothesis, Psychological Review 48(4). 337-342.
Mufutau, A. P., Shittu, M. O. and Hamzart K. A. (2022). Effect of COVID-19 outbreak on socioeconomic development in Nigeria
Mufutau, A. P. and Shittu, M. O. (2020). Effect of Insecurity on Socioeconomic Development in Osun State Nigeria. Journal of Business Management and Economics. 08:05 May, (2020).
Nkasi, W. (2020). Nigeria City Business. Nigeria Cry Out Against Police Brutality, Nkasi online, October 16, 2020. Retrieved 28th November, 2020. www.cfr.org.
Ochi, I. B. and Mark, K. C. (2021). Effect of EndSARS Protest On The Nigerian Economy. Global Journal of Arts, Humanities and Social Sciences. Vol. 9. No 3, Pp. 1-15, 2021.
Oludamola, A. (2020). History of Protests in Nigeria: Reaction And Consequences. www.guardian.ng, https://guardian.
Oshinnaike, T. (2020). The Political Awakening of Nigeria Youths. Stears online Publishers. Retrieved 22nd November, 2020. www.stearsng.com.
Perpetual, T., Abang, V., Ozongbachi, O., Oliver, D. and Jane, N. (2022). The 2020 "EndSARS" Protest, Propelling Factors and Government Approach to Managing The Protest in Lagos State. Journal of Social Work in Developing Society. Vol. 4(1):51-67, August, 2022.
Rudig, W. and Kanjotis G. (2014). Who Protest in Greece: Mass Opposition to Austerity. British Journal of Political Science. Vol. 44/ Issue 03/July 2014, Pp 487-513.
Sada, M. (2020). Nigeria's SARS: A Brief History of The Special Anti-Robbery Squad. https://www.aljazeera.com.
Temple, U. (2022). Social Media as Solidarity Vehicle During The 2020 EndSARS Protests in Nigeria. International Journal of Asian and African Studies. Vol. 1, No 1. 2022.
Ugba, D. and Linus, A. (2022). Impact of Social Unrest on Nigeria's Socio-economic Development. International Journal of Public Administration & Management Research (IJPAMR).
Utin, I. B. (2018). Political Systems and Underdevelopment in Africa (1957-2010). International Journal of Arts and Humanities (IJAH).Vol. 7(2), S/No 25, April, 2018: 8-15.
Vaskov, M., Pienknagura, M. S. and Ricci, L. A.(2021). The Macro economic Impact of Social Unrest. IMF Working Papers 2021/135, International Monetary Fund.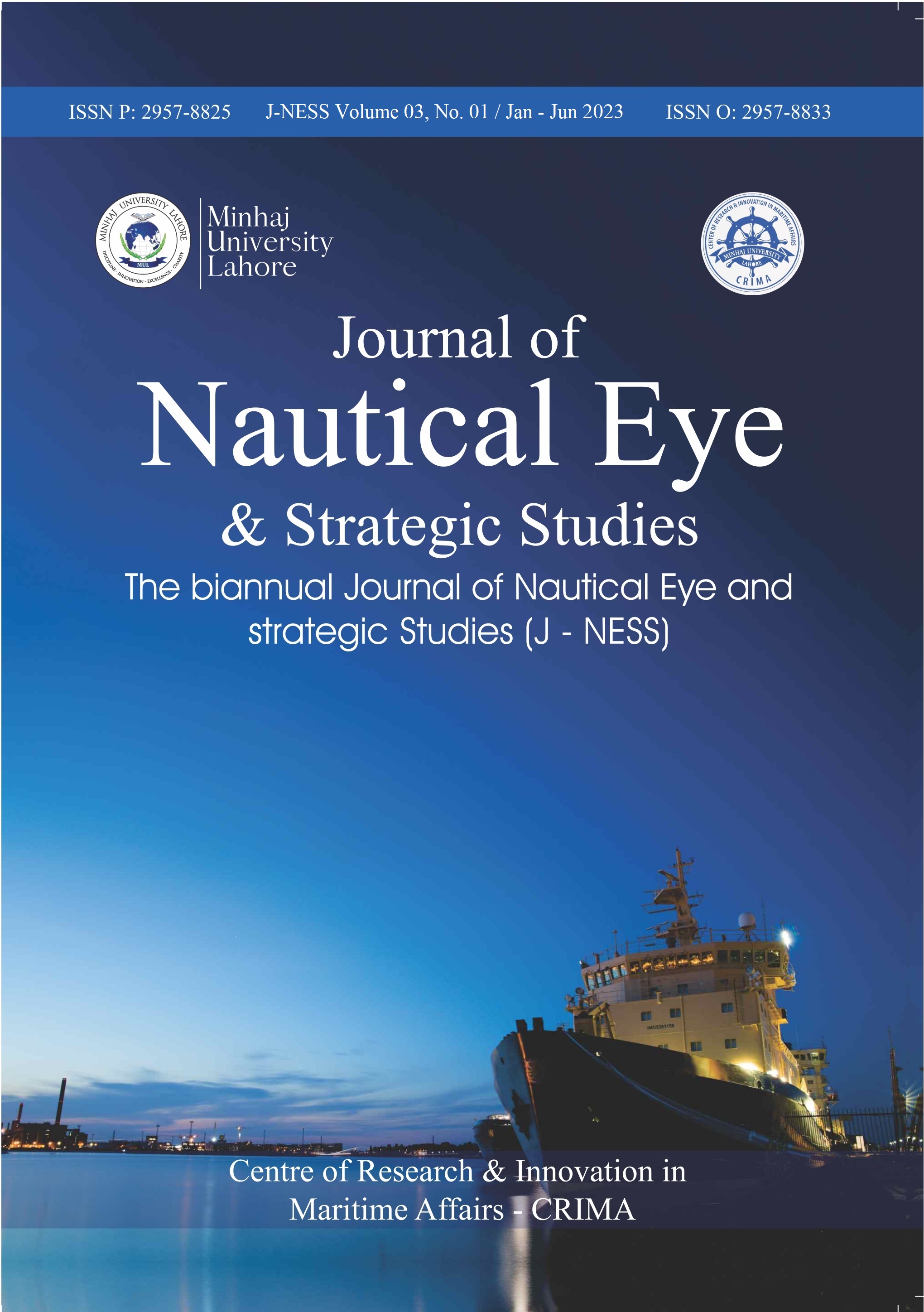 Downloads
How to Cite
Popoola, P. D. M. A., Olawale, S. M. ., & Ojo, A. O. . (2023). End Special Anti Rubbery Squad (EndSARS) Protest and It Consequences on Economic Activities of Nigeria Maritime Sector. Journal of Nautical Eye and Strategic Studies, 3(1), 1–20. https://doi.org/10.58932/MULG0010
License
Copyright (c) 2023 Journal of Nautical Eye and Strategic Studies
This work is licensed under a Creative Commons Attribution-NonCommercial 4.0 International License.