اِختلافِ مراجعِ ضمائراورقرآنی اُصولِ یُسر (مفسرین کی آراء کا ناقدانہ جائزہ)
Difference in the Sources of Pronouns and the Quranic Principle of Easement(A critical review of Exegetes opinions)
Keywords:
The Holy Quran, Translation, Pronouns, Interpretation and exposition, Substitutions of the original words, Analogies, Miracle
Abstract
It is impossible to receive guidance from the Holy Quran unless it is properly understood by its reader with the feeling that the Quran is descending upon his heart and soul. Notably, the Holy Quran cannot be understood without its interpretation and exposition. It is a common practice among linguists to use pronouns to create collaboration and correspondence among words and sentences. Pronouns are the substitutions of the original words and are used to avoid repetitions and make the statement more beautiful and eye-catching. The style of expression of the holy Quran is so simple that the pronouns, similes, examples, metaphors, and reasoning present in it, offered no difficulty even to its initial addressees who were quite illiterate people. The Holy Quran is the eternal code of conduct for the people. Everyone can seek guidance for every walk of life from it and this is the miracle of the holy Quran the any Muslim can memorize it with a little effort, whether he is an Arab or non-Arab. This is so because there is no ambiguity or complexity in it. This paper presents an analytical study of the pronouns to reinforce the Quranic princples of the easement.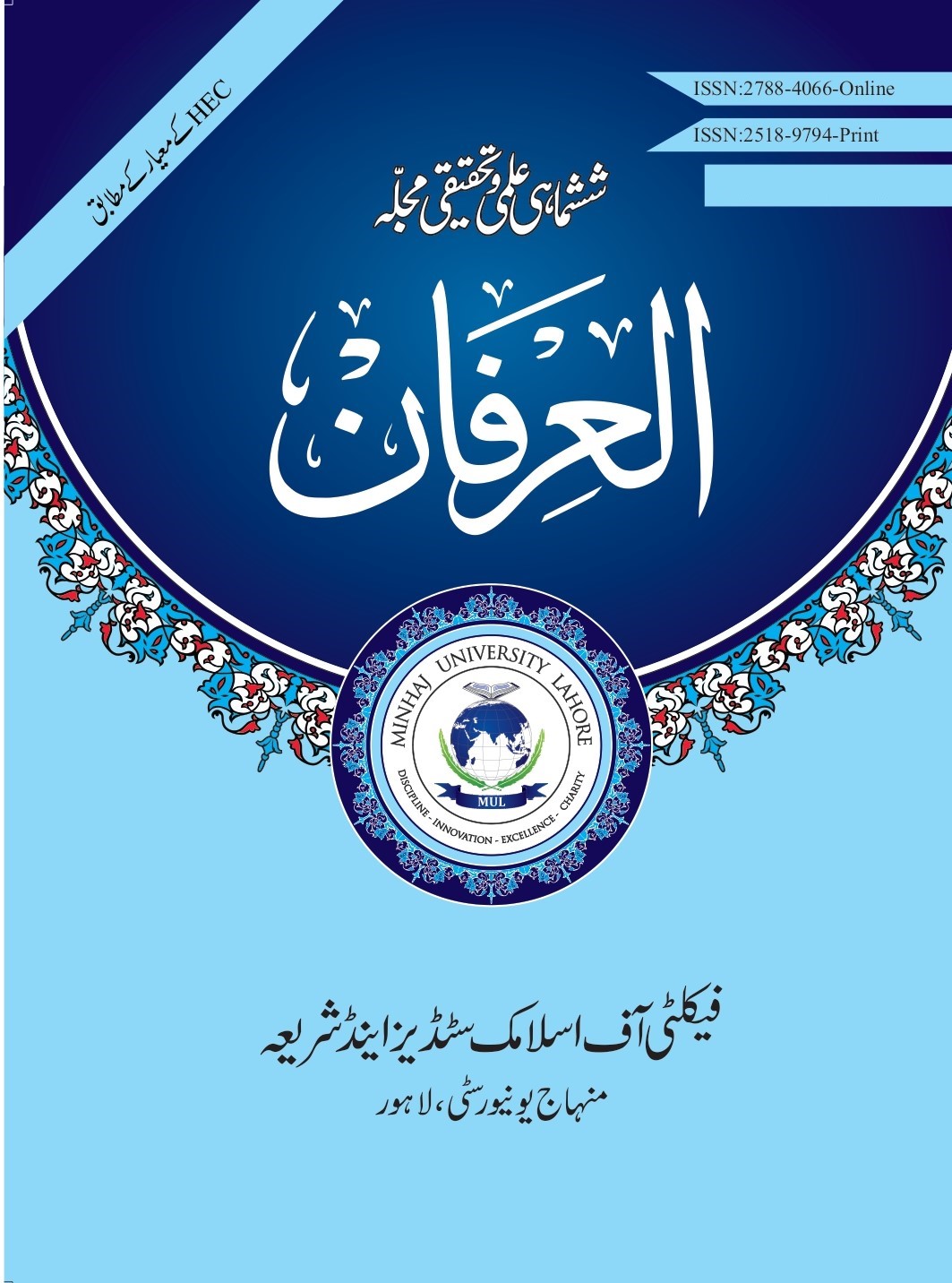 Downloads
How to Cite
Rana, M. F., & Riaz, D. M. . (2023). اِختلافِ مراجعِ ضمائراورقرآنی اُصولِ یُسر (مفسرین کی آراء کا ناقدانہ جائزہ): Difference in the Sources of Pronouns and the Quranic Principle of Easement(A critical review of Exegetes opinions). Al-Irfan, 8(15), 25–39. https://doi.org/10.58932/MULB0004
License
Copyright (c) 2023 Al-Irfan
This work is licensed under a Creative Commons Attribution-NonCommercial 4.0 International License.