Tri-Polar Competition in the Indian Ocean and Role of Pakistan
Keywords:
Strategy, Economy, CPEC, EZZ, OBOR
Abstract
The Indian Ocean is one of the world's largest bodies of water. It accounts for almost one[1]quarter of the world's oceans. East and west are connected by an ocean that runs across the Asian continent and connects the Middle East, Africa, and South Asia. Regional and international powers are interested in the Indian Ocean area. The goal of American policy is to prevent China from being ruled by a government or coalition of governments that may be dangerous to the United States of America. At the very least, India's participation in the revival of the Quad seems to be motivated by a desire for improved collaboration. Pakistan should be cautious while dealing with bilateral relations with these two crucial countries. In this regard, the United States looks uninterested. The interests of major nations in this area are enormous. It's no secret that Pakistan pays close attention to what's going on in the Indian Ocean Region (IOR). Pakistan is included since it is a coastline country on the Indian Ocean. Pakistan and the Arabian Sea have a combined coastline of about 1,000 kilometers. It has a substantial quantity of marine economic resources in its Exclusive Economic Zone (EEZ), which borders the Gulf of Mexico on the western coast. Chinese efforts such as "One Belt, One Road" and the "China Pakistan Economic Corridor" (CPEC) have increased Pakistan's reliance on the Indian Ocean.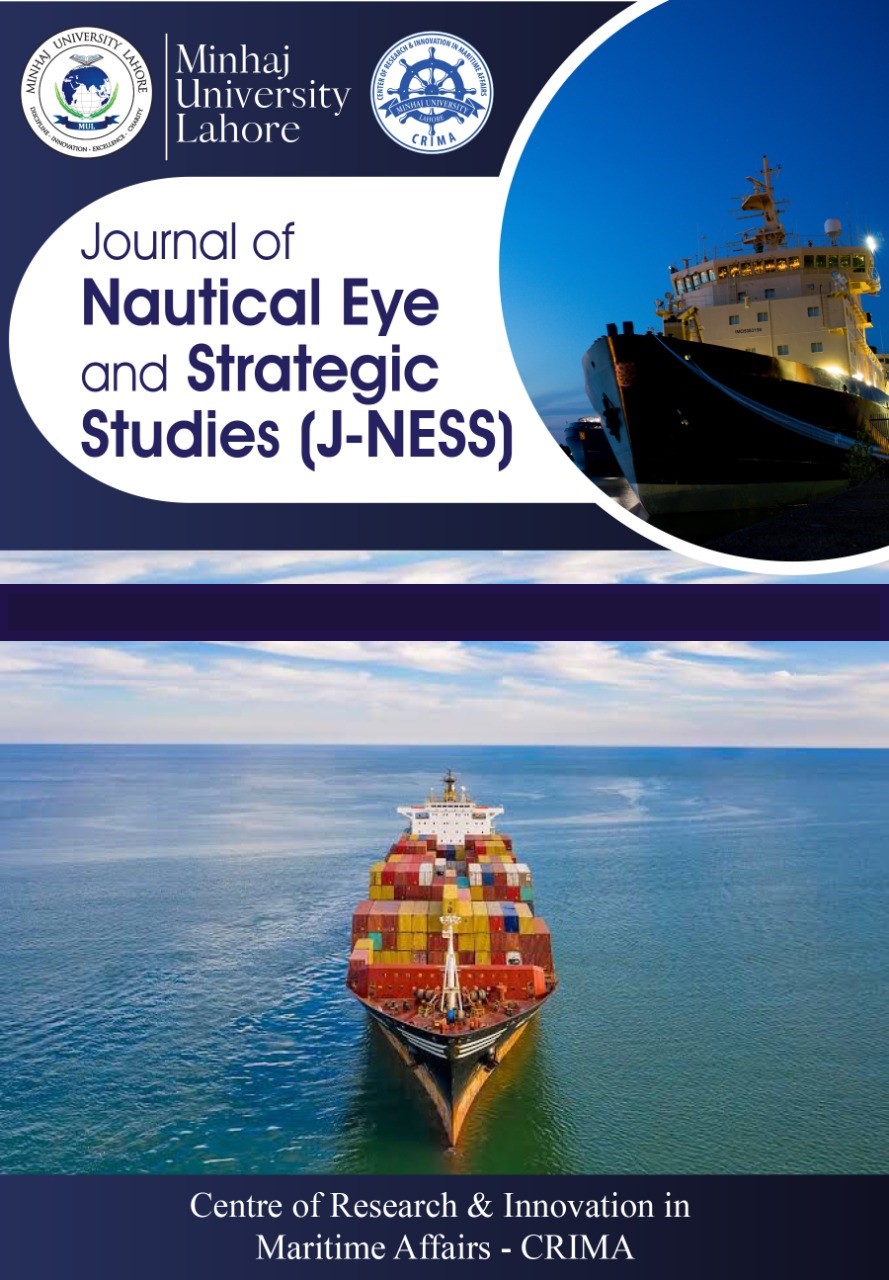 Downloads
How to Cite
Syed Husnain Haider. (2022). Tri-Polar Competition in the Indian Ocean and Role of Pakistan. Journal of Nautical Eye and Strategic Studies, 2(1), 33–42. Retrieved from https://ojs.mul.edu.pk/index.php/J-NESS/article/view/96
License
Copyright (c) 2022 Journal of Nautical Eye and Strategic Studies
This work is licensed under a Creative Commons Attribution-NonCommercial 4.0 International License.