Strengthening Peace and Economic Cooperation in South Asia
Keywords:
Regional Peace, Economic Cooperation, South Asia, Political Conflict Resolution
Abstract
Conflict resolution proponents consider economic integration the silver bullet. Politically stable states in Europe and Southeast Asia are currently united under a single flag. While "monetary inclusion" is sometimes cited as a means toward stability, this is not always the case. But a unified currency is not necessarily the key to peaceful coexistence. This article will examine South Asia to see if and how much monetary settlement has aided in maintaining peace in that region. Despite attempts to bring nations together in South Asia through peace and monetary reconciliation, these efforts have been mostly ignored. Entombment and interstate strife are major contributors to this problem. While this article focuses on provincial financial partnerships as a means of promoting development and peace in South Asia, it argues that the legacy of state structures in the region effectively preempts any such provincial involvement. The religious and socioeconomic tensions that fuel the political turmoil in South Asia portend a bleak future for the area. In light of recent events, it would appear that praying for a peaceful synthesis and permanent peace in South Asia through reconciliation is naive.
References
Alimoradi, Z., Lin, C.-Y., Broström, A., Bülow, P. H., Bajalan, Z., Griffiths, M. D., Ohayon, M. M., & Pakpour, A. H. (2019). Internet addiction and sleep problems: A systematic review and meta-analysis. Sleep Medicine Reviews, 47, 51–61.
Desbiens, C. (2013). Power from the North: Territory, identity, and the culture of hydroelectricity in Quebec. UBC Press.
Grüsser, S. M., Thalemann, R., & Griffiths, M. D. (2006). Excessive computer game playing: evidence for addiction and aggression? Cyberpsychology & Behavior, 10(2), 290–292.
Hameiri, S., Jones, L., & Zou, Y. (2019). The development-insecurity nexus in China's near-abroad: Rethinking cross-border economic integration in an era of state transformation. Journal of Contemporary Asia, 49(3), 473–499.
Hitchcock, M., King, V. T., & Parnwell, M. J. G. (2018). Tourism in south-east Asia. Routledge.
Nyadera, I. N., & Bingol, Y. (2021). Human Security: The 2020 Peace Agreement and the Path to Sustainable Peace in South Sudan. African Conflict & Peacebuilding Review, 11(2), 17–38.
Porto, J. G. (2016). Towards an African peace and security regime: continental embeddedness, transnational linkages, strategic relevance. Routledge.
Rapetti, M. (2016). 12. The Real Exchange Rate and Economic Growth: Some Observations on the Possible Channels. In Macroeconomics and Development (pp. 250–268). Columbia University Press.
Robins, P. (2013). Turkey's 'double gravity' predicament: the foreign policy of a newly activist power. International Affairs, 89(2), 381–397.
Singh, M. (2016). SAARC for geopolitical symbolism: Whither multilateralism? South Asian Survey, 23(1), 1–16.
Steinfield, C. (2002). Understanding click and mortar e-commerce approaches: A conceptual framework and research agenda. Journal of Interactive Advertising, 2(2), 1–10.
Weiss, R., & Schneider, J. (2015). Always Turned On. Gentle Path Press.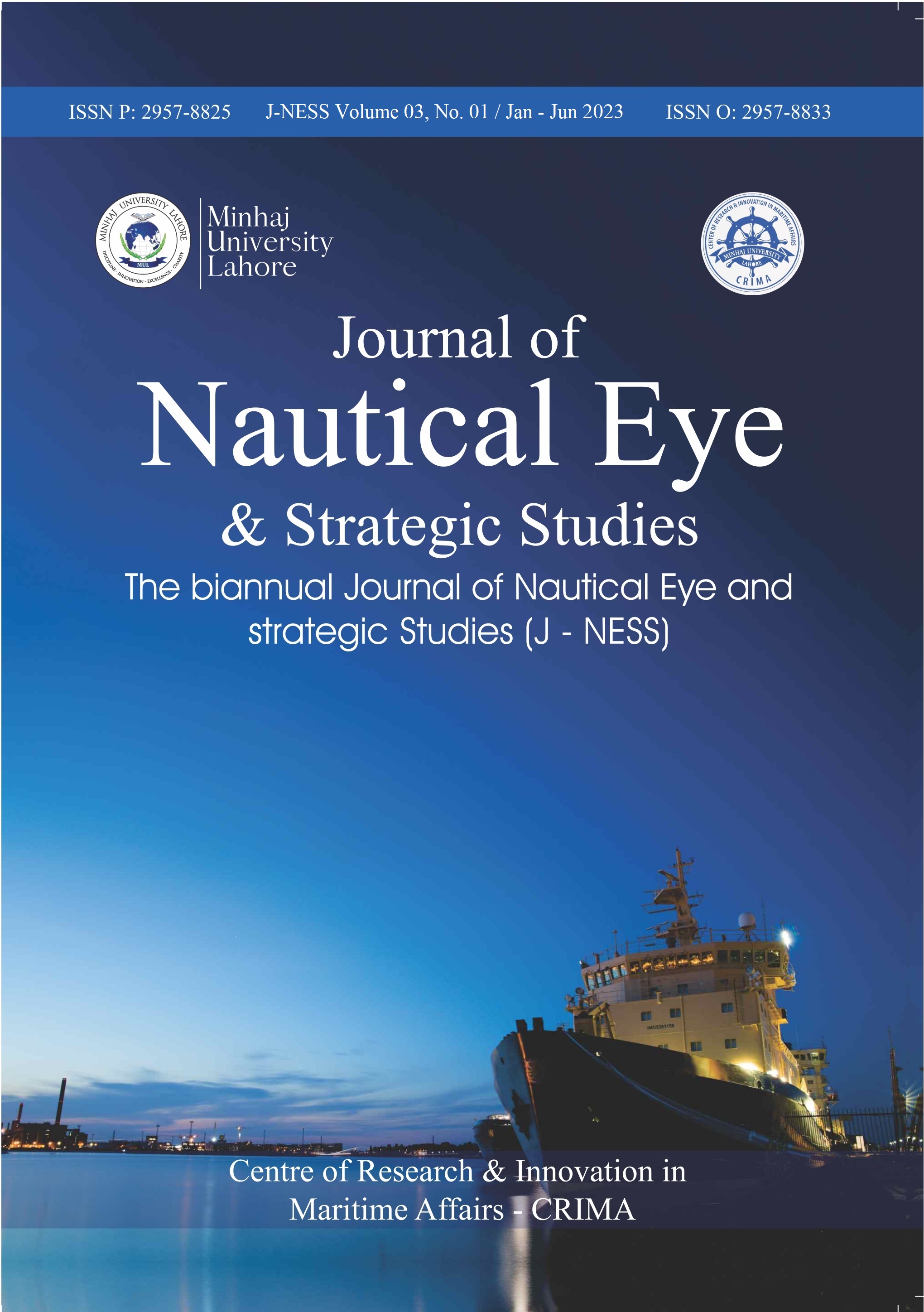 Downloads
How to Cite
Rehman, M. (2023). Strengthening Peace and Economic Cooperation in South Asia. Journal of Nautical Eye and Strategic Studies, 3(1), 140–153. https://doi.org/10.58932/MULG0016
License
Copyright (c) 2023 Journal of Nautical Eye and Strategic Studies
This work is licensed under a Creative Commons Attribution-NonCommercial 4.0 International License.