KAP Analysis of Students Regarding E-Learning during Covid-19 in Universities of Lahore
Keywords:
E-learning, KAP, COVID-19, lockdown, Pakistan
Abstract
This research was conducted to explore the KAP analysis of students regarding e-learning during COVID-19 in the universities of Lahore and it examined the increase of online learning among university students due to COVID-19 lockdown. The research was supported by Technology Acceptance Model. The quantitative research approach was used as a method of inquiry. Two private universities in Lahore were selected as the target population. A simple random sampling technique was used to draw the sample from the required population. The drawn sample size was 103 university students that were currently attending online classes in universities. An adopted well-structured questionnaire was used to collect the required information. Quantitative analysis was done through SPSS version 26. Regression analysis is used to test the hypothesis. The questionnaire's reliability was tested by Cronbach's alpha test. A number of associations were found between sex and education of students and knowledge, attitude, and practice of students regarding online learning. It has been revealed that the knowledge, attitude, and practice of students towards online learning is transformed during this COVID-19 and most students gave preference to online learning in lockdowns and restrictive circumstances.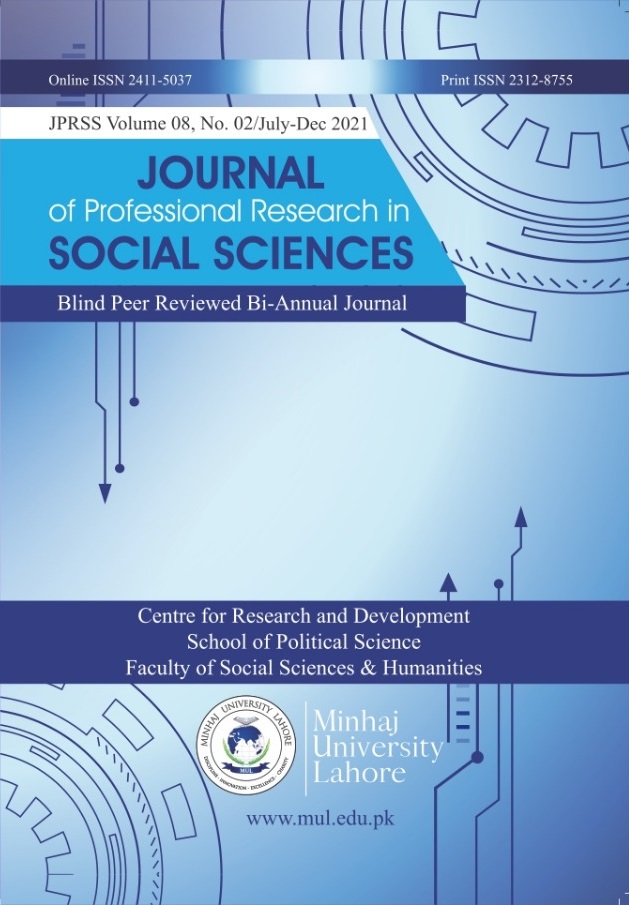 Downloads
How to Cite
Saba Sarwar, & Dr. Madieha Akram. (2021). KAP Analysis of Students Regarding E-Learning during Covid-19 in Universities of Lahore. Journal of Professional Research in Social Sciences, 8(2), 24–35. Retrieved from https://ojs.mul.edu.pk/index.php/JPRSS/article/view/122
Section
Articles (English)